Berry Family 2002 Holiday / New Year Letter
New Year Greetings to all our Family & Friends!
This past year has been a bit more relaxed than the previous. The beginning of the year brought the high school graduation of our oldest, Kenny. Some of you were here for the graduation party and we thank you for your support.
Not wasting any time, he enrolled at Clover Park Technical College for classes in Computer Media Design & Production with a focus on 3-D design and animation. He just finished his third quarter (classes through the summer) with a 3.76 GPA earning him a spot on the Vice-President's List. Needless to say we are quite proud of him. Look for his name in the credits of the next Star Wars movie (grin).
In March, we moved Grandma Marion into an independent living retirement complex in Tacoma. Though we loved having her live next to us, it was not what she needed, which was socialization and activities with people her age. We were hesitant at first, but it has been absolutely the best thing and she is happy and thriving in her new environment. They provide her meals, she plays Bingo, goes on outings, they take her shopping and so much more. Where do I sign up!?! But she still has time to come visit us, and us her.
Peter is continuing his home schooling under Bea's fine instruction. He is well ahead of schedule and may graduate high school with a couple of college credits in his pocket.
He got his driving permit this year and has proven to be a capable driver thus far. He earned enough money in the summer of 2002 to buy a good used car, an '87 Pontiac Grand Am.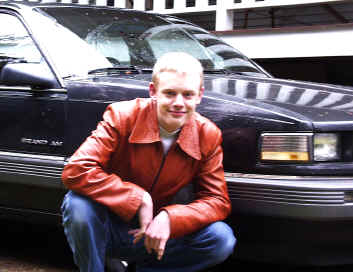 Peter and his '87 Pontiac Grand Am
He's not yet sure of his future plans but we're sure he will do well in whatever he chooses.
Our only vacation adventures this year were a 3-day outing to Crater Lake in Oregon and a day outing to Staircase Trail in the nearby Olympic mountains. Both were very picturesque trips.
We were blessed with 3 separate visits from Bea's sister Becki. Once in March, again in September when she vacationed with us, and then she spent Christmas time here. Her visits with us are always so precious!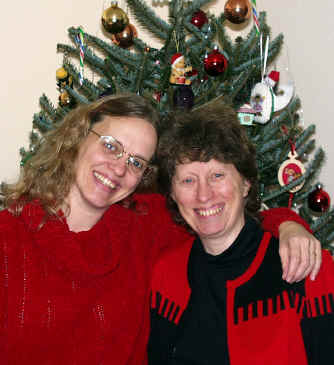 Bea and her sister Becki
Our hopes and blessings to all for a wonderful New Year.
Love from Nick, Bea, Kenny & Peter