2008 Chrysler 300 Touring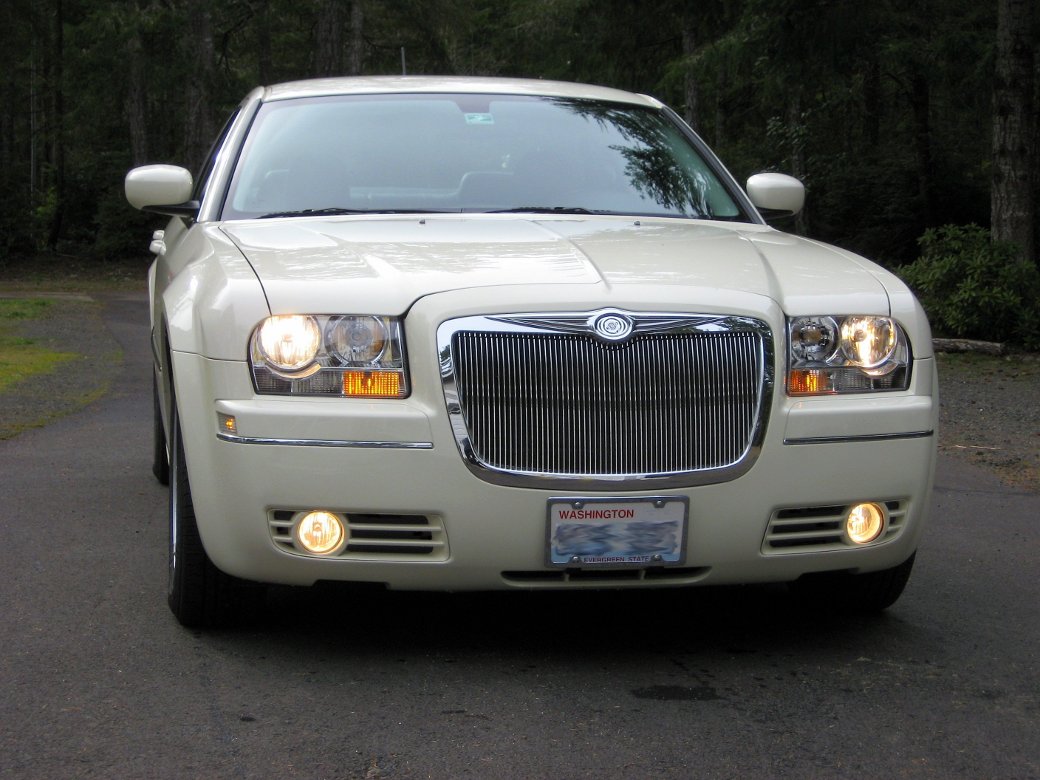 In the ever popular and classy looking Cool Vanilla color. Purchased "slightly used" with only 6000 miles on the clock in December 2008.
As you can see in the before & after picture below, I have added:
| | |
| --- | --- |
| | Chrome vertical bar grille |
| | Lowered the front license plate with a custom made mount |
| | Color-matched the fog light grilles |
| | Clear front side marker lenses |

In the rear, I've added the CDC trunklid trim panel and filled it in with factory CHRYSLER chrome lettering from a Chrysler Aspen door. Then I removed the "300" emblem from the right side of the lid to keep it from being too busy and better balanced. Looks like it could be factory installed.
With it's introduction in 2005, the Chrysler 300/300C is perhaps the most awarded vehicle of all time.
1. 2005 North American Car of the Year
2. 2005 AUTOMOBILE Magazine - Automobile of the Year
3. Auto Week - America's Best Sedan: 300C
4. Edmunds Editors' Most Wanted Vehicle for 2005: Chrysler 300
5. Edmunds.com - Top 10 Hippest
6. 2005 Car and Driver - 10 Best "Full-Size Sedan."
7. SmartMoney - "Best Full Size Sedan."
8. Money Magazine - Car of the Year.
9. Life Magazine - "The Sexiest Cars of 2005"
10. Maxim Magazine - Car of the Year
11. African Americans On Wheels/Urban Wheel Awards - Car of the Year
12. Automotive Rhythms - Urban Elite Car of the Year
13. Automotive Fleet - Fleet Car of the Year
14. ROAD & TRAVEL Magazine - "2005 International Car of the Year"
15. Advertising Age - 10 Hottest Cars.
16. Detroit News - Car of the Year
17. Motor Trend - car of the year
18. ICOTY - Car of the year (International Car of the Year)
19. Motoringtv.com - Car of the year - Luxury division
20. AJAC (Auto Journalists of Canada) - Car of the year - Luxury division
21. Robb Report - Top ten list
22. Executive Life - Top 10 Cars for CEOs
23. Detroit Free Press - Car of the Year
24. Kiplinger's Personal Finance - 2004 Best New Car
25. eCity of Style - Fifth Annual Auto Style Award
26. CNN Money - Best Large Car 2005
27. MotorWeek TV - Best Family Sedan
28. International Carwash Association - 300C Most Washable Car of 2005
29. Motor Trend May 2005 - Chrysler 300c Best Overall Value - Large car
30. Car and Driver January 2006 - 300C/300C SRT8 Best full size sedan -Annual 10 best cars list

2000 Chrysler Concorde LX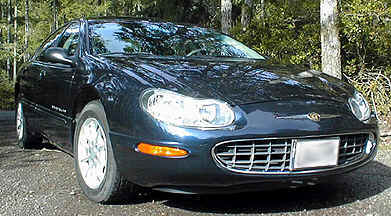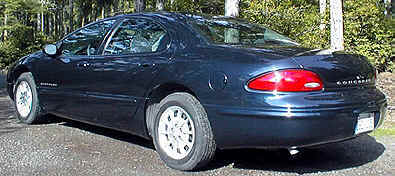 Purchased new in October 2000. I had considered several new or late model vehicles but the Concorde kept rising to the top of the list as the best vehicle for the money. Now passed down to my son, Ken.
| | |
| --- | --- |
| | Deep Sapphire Blue Pearl Coat |
| | Dark Charcoal Cloth Interirior |
| | 200 H.P. 2.7L DOHC V-6 Engine |
| | 16" wheels with Goodyear Eagle tires |
| | Dual airbags |
| | Air Conditioning |
| | Power Windows |
| | Power Door Locks - Automatic, speed sensitive |
| | 8-Way Power Driver's Seat with Lumbar support |
| | Power Mirrors |
| | Keyless entry and remote locking |
| | Power trunk release |
| | Cruise Control |
| | Tilt Wheel |
| | AM/FM Cassette Stereo |
| | Intermittent, Speed-Sensitive Wipers |
The Chrysler Concorde is the winner of several automotive awards:
| | | |
| --- | --- | --- |
| 2001 | Best Full-Size Car - Initial Quality | J.D. Power and Associates |
| 2000 | Total Value Award™ in Larger Cars | Strategic Vision |
| 1998 | Design of the Year | Automobile Magazine |
| 1998 | Best New Car, $18,000-$25,000 | Kiplinger's Magazine |
| 1998 | Best Initial Quality Ranking | J.D. Power & Associates |
| 1998 | Best New Automotive Design | Industrial Designers Society of America |

Our Van
In the search for the perfect family travel vehicle, we ended up purchasing a new 1999 Ford Windstar SE mini-van in July '99. We drove the Chevy Venture and the Dodge Caravan (new models) and while they were both very nice, the new Ford was just that much nicer. It was notably more solid, smoother and quieter.
We've been noticing other new Windstars on the road and they seem to be mostly the LX model, which is a notch down from the SE. While the LX can be optioned like an SE, the LX has flat dark-grey or tan-beige (depending on vehicle color) bumpers and side molding strips, which look kinda tacky to me. The SE bumpers come painted the same as the rest of the van chrome side molding and a classy chrome grill.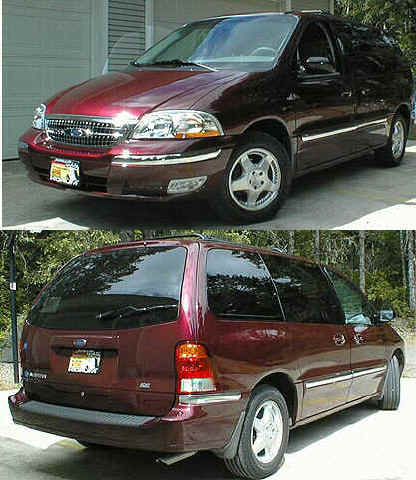 Check out the smooth 16" alloy wheels with low-profile Michelin radials.

My vehicles throught the years . . .

My very first car, a 1962 Pontiac Catalina, was purchased shortly before I turned 16 from the back lot of the local Volkswagen dealership. This back lot was for the trade-ins they were embarrassed to have out front. As I recall, my Dad had to shell out a whopping $200 to buy it for me. Actually, it was a well cared for car with low miles. It was only 10 years old at the time and had a straight, rust free body and perfect blue cloth interior. A 389 2-bbl. V-8, with a RotoHydramatic transmission that actually worked provided the go-power. It was a basically a strippo model and even lacked an AM radio. A previous owner had installed and aftermarket underdash air conditioner which worked very well after a Freon refill. The motor ran butter smooth and started easier and quicker than ANY car I have had since.
Less than a year later, I was following my Dad home and crunched the front end when I hit him after he had to stop fast for a car turning left. Nearly bald tires and a bit of inattention were my downfall. I later sold it to my uncle who fixed it up and drove it for several years.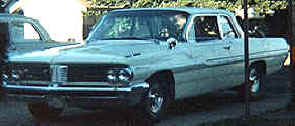 1962 Pontiac Catalina

I had already developed a liking for Pontiacs, so as I shopped for a new (used) car that I could afford, a maroon red 1964 Pontiac Bonneville hardtop caught my eye. It had white vinyl interior, rare factory spinners on the wheel covers and a glaspak muffler on it's single exhaust. The Bonneville was more upscale than the Catalina and had a Carter AFB 4-bbl. carb atop the 389 V-8 so it moved out pretty good for the tank it was.
This was the car I had through my Senior year in high school and made for many good memories of "crusin' the avenue" while listening to Iron Butterfly and The Who on 8-track tapes.

1964 Pontiac Bonneville Hardtop
One of my favorite pastimes was looking at cars in various car lots. Not that I had any real money to spend, but it was fun. In the back lot of a Ford dealer I found a 1969 Pontiac Bonneville 4-door hardtop. I thought it strange, since the car was only 5 years old at the time and appeared to be in nice condition. The salesman said it had a bad engine and I could buy it for $375. SOLD! Turns out it had 3 cracked pistons so I did a minimal rebuild and had it repainted as the metallic green finish was dull. I looked and ran great but had low oil pressure. I didn't replace the oil pump during the rebuild trying to save a few bucks. I sold it cheap and went back to cruising used car lots.
After I graduated, I got a job at a local ice cream parlor and with a steady income decided to buy something new, so I traded the '64 Bonny in for something completely different.

A brand new 1974 Fiat 128 Sport Coupe. Light grey with red vinyl interior. 1.3 liter 4 cyl. 4-speed stick. This was in March of 1975 and the dealer was dropping prices on their leftover '74's so it was the cheapest new, sporty car around.
LOTS of fun to drive but I still went shopping for a project car and ended up buying a 1967 Pontiac GTO hardtop.
The car had the factory Butternut Yellow paint, black vinyl roof and black vinyl interior. The original 400 V-8 had been blown and a good used 389 resided in its place. A Turbo-400 and a 12-bolt posi (of unknown ratio) rounded out the drivetrain. It had the deluxe exterior and interior trim packages with the Hurst Dual-Gate shifter on the console. Factory gauges, tinted glass, AM radio and the rare power front disc brakes filled out the options list.
It was barely 8 years old at the time but had led a typically hard life. I purchased it from a fellow in the military (there is a large Army base nearby) who was selling it for a friend who had already "shipped out" to a new post. Amazingly, it had a clear title on it. The radiator leaked like a sieve and the brakes were all but non-existent. I purchased it for $350 and drove it the 10 miles home stopping at gas stations to refill the swiss cheese radiator. Stopping consisted of jamming on the parking brakes and hoping I could stop where I wanted to.
The body was in decent shape and the interior remarkably nice, once I cleared out the empty beer cans and scrubbed it down. This had definitely been a party car. The engine needed nothing more than a thorough tune up. The tranny and rear end were solid. I had to put on two new tires, had the radiator rebuilt, replaced the master cylinder and put on new front brake pads.
I didn't drive it very much and ended up selling it to a friend who immediately took it out street racing and messed up the valves by repeatedly over-revving it.
I still had the little Fiat, of course, but the Fiats are not known for being real dependable. After the second transmission rebuild and the beginning of odd electrical problems, I started looking for some good old American iron. Something with some real "put-you-back-in-the-seat" torque . . .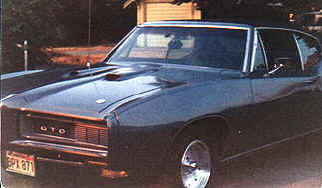 1968 GTO Hardtop
My second Muscle Car was another GTO. This time a 1968 hardtop. Dark Green with black vinyl interior. 400 4-bbl., Turbo-400, 12 bolt posi. (unknown ratio), power front disc brakes, power steering, tilt wheel, hide-a-way headlights, gauges, and bucket seats, but get this, NO console and the shift lever on the column!
I found it at the local Buick dealer in 1976. It was an unmolested, all original goat in excellent condition. It was not viewed as desirable as the salesman seemed glad to just get rid of it. Perhaps the metallic Army Green paint and stock wheel covers with skinny bias-ply tires kept it from being more valuable. It became my possession for a paltry $800. The car had been well cared for and needed nothing mechanical done to it. The exterior appearance did need some immediate attention. I purchased a set of GR70-14 radial tires and had them mounted on a set of 14X7 Centerline clone E-T brand mags. Conservative but nice and no need for air shocks to keep the rear tires from rubbing. A couple months later I had it repainted charcoal metallic and had local pinstripe artist Larry Currie do a double pinstripe along the side similar to a factory stripe and then paint "6.5 Liter" along the hoodscoops in tribute to to the Trans Ams of the time. Thus the transformation was complete.
This was a very nice comfortable car and it loved to cruise fast on the highway.

Next up was an interesting project car that never saw completion (nor apparently any photos for posterity). A 1965 Corvair Monza. Normally a car like this would not be listed with my vehicles of interest but this one was altered to house a 300HP 327 V-8 in the back seat! There were a couple of companies that built mid-engine V-8 Corvair kits, but this one was a very well done home-brew conversion. The previous owner had all the tough work done on the car. The only thing lacking was a throttle cable and some sort of engine cover. He had actually driven it several times, using a string over his shoulder to operate the throttle. Every time he tried to do a wheel stand, however, he blew out the spider gears in the transaxle. After blowing the 3rd transaxle he put the car in his shed and lost interest in it.
I came along and purchased it for $350 and promptly put it in my brother's garage till I got some time and money to work on it. Neither item appeared simultaneously and I never did anything with it. Two years later I sold it for the princely sum of $375 (a whopping $25 profit). I still kick myself for selling it - it would have been a WILD ride!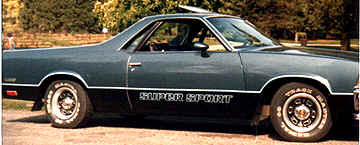 1978 El Camino SS - Side View
By 1978 I was working a real job, full time and had disposable income to dispose of. I thought of ordering a new Camaro Z28 as my friend had had just done or perhaps a new Firebird, but I had seen the new El Caminos and decided to order an SS model Elkie. It arrived in record time, blue with black lower section and black vinyl interior. A 305 2-bbl. and Turbo-350 with a 10 bolt posi rear end provided the propulsion. It was no hot rod, but the little 305 surprised me with its get up and go.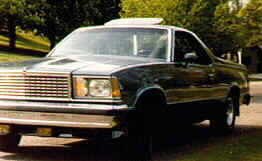 1978 Elkie - Front view
In the interior I ordered the deluxe bench seat rather than buckets for those times when I needed room for a third person. Tinted glass, gauges, tilt wheel, power windows and "radio delete" filled out the interior options. I installed my own decent stereo after delivery.
I really enjoyed driving the El Camino. It looked good, it was comfortable and got decent mileage. A respectable mix for a daily driver and I kept it for 4 years - longer than any other car up to that point.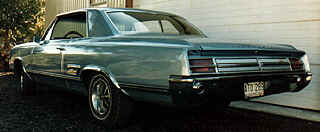 1965 Oldsmobile 442 Hardtop
Next up on my list was a 1965 Olds 442 hardtop I obtained in 1979. Medium Blue metallic with black vinyl interior. It had the deluxe exterior and interior trim along with bucket seats, console and an AM radio. Other than that it was almost a racer's car. 400 4-bbl. Muncie 4-speed, manual steering and manual drum brakes.
I purchased it for only $350 from the second owner who had it since 1968. The car was pretty much wore out by then, but it was complete with a solid, straight body. I rebuilt the motor and transmission. The original 12 bolt rear end had failed some years prior and the owner had replaced it with a 10 bolt open unit with 3.08 gears. I replaced it with a 12 bolt open with 3.31 gears (it was all I could afford at the time). I prepped the body and had it repainted the original blue and installed a set of JC Whitney diamond pattern seat covers over the worn & torn originals.
This car really kicked a**. The Olds motors don't rev up real high, but they produce awesome low and mid range power. Slammin' the solid Hurst shifter through the gears was a memorable experience. Better than your average ride at the fair anyday.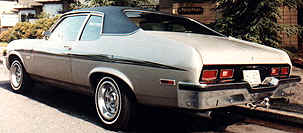 1973 Chevy Nova SS
My next acquisition, though it did boast genuine SS emblems was not a genuine Muscle car. A 1973 Nova SS. This super clean little Chevy was silver/beige with a black vinyl interior and a black vinyl roof with the VERY rare sliding vinyl sunroof. This unusual option was offered on several GM models in the early 70's but found its way onto very few actual cars. Motivation was provided by a 350 2-bbl. and a Turbo-350. While this is not much to brag about, the lack of serious smog equipment and relative light weight of the Nova allowed this combination to provide more than adequate "scoot power". The interior had buckets, console with the "sawtooth" gauge cluster, tilt wheel and tinted glass.
I didn't get to own it for very long. A friend of mine decided he had to have it and kept bugging me to sell it to him. I relented quickly and went about finding something new to drive.


1971 SS454 Monte Carlo

Now comes the rarest of my Muscle cars and probably one I should have kept as an investment. A 1971 SS454 Monte Carlo. Some may decry that the Monte Carlo is not a real Muscle Car, but the original Montes were nothing more than a Chevelle with formal sheetmetal and a slightly stretched nose. The chassis, drivetrain and even the interiors were IDENTICAL to the Chevelles. Mine was white with a black vinyl top and black vinyl interior and this big-block bad boy had the standard LS5 motor with a Turbo-400 and 12 bolt posi with (I believe) 3.08 gears. The interior had buckets with console, tilt wheel and air cond. but lacked the gauge package or any power goodies.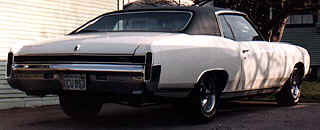 The view seen by other drivers
I paid the princely sum of $750 for this rare car. It ran kinda ratty and the exhaust was all rotted out but the body and interior were straight and needed little more than a good cleaning. A complete tune up including rebuilding the carb and new factory exhaust pipes with "hemi" mufflers got it purring like new. It had the factory 15X7 Rally wheels. A friend had a set of 15X8 Corvette Rallys that he had picked up for his Nova (see '73 Nova SS above), but they were too wide for his car so we traded straight across. To these we mounted up a set of fat 245/60-15 radials and when on the car, cleared the rear fenderwell lips by 1/4". The new wide, low stance combined with a full set of Super-Duty shocks, had Mr. Monte powering through the corners quite nicely. M.C. Hammer was very enjoyable to drive but since he had been rode hard for many years before I acquired him he was beginning to tire. The engine transmission and rear end all showed signs that they would need rebuilding before long. At the time, I decided it wasn't worth keeping him and ended up trading straight across for my next Muscle car . . .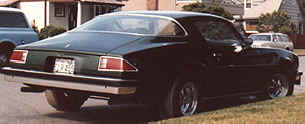 1975 Chevy Camaro
A 1975 Camaro. Now I realize that The Camaro is technically a Pony car and being a 1975 model puts it into the smog-dog classification and a 350 engine lacks the big-block status, but this car was nearly the same fun to blast through the gears as my '65 442.
I must back up a bit and say that trading the SS Monte for this Camaro was unusual. Friends said I flat out was crazy. Reason??? This Camaro was in poor shape. I even had to tow it home. The owner was a kid just out of high school. The car originally had a 6 cyl. and a 3 speed. He picked up a 350 core motor and rebuilt it in auto shop class with this teacher. They found a 4 speed Saginaw box and got it all bolted together in the car and running. BUT the Holley carb sitting atop the motor was a borrowed item and did not go with the car. Neither did it have an exhaust system, just open manifolds. For reasons still unknown, I decided I had to have this car and we made the deal.
After towing the FrankCamaro home, I bolted on a used Holley 650, and fired it off. I could not get it to idle worth beans, though it ran well at higher RPMs. I messed with it for some time trying to discover why it would not idle when I remembered the kid mentioning that they had put in a "hot" cam. I pulled the cam and took it down to the local cam grinders. I explained it came from an otherwise stock 350 that refused to idle and asked if he could identify the grind specs for me. He looked at the numbers stamped on the end of the cam and began to laugh. "What you have here is about the biggest hydraulic grind cam around. Its WAY too much cam for that poor little motor." I suggested a change to the "300 horse" grind but he recommended a conservative "RV" grind, so I went with that. I slipped it in with a new set of lifters and fired it off. Idled perfectly. Bolted up a set of cheap headers and drove it "quietly" to the muffler shop where they bent up a dual exhaust with glasspacks and a crossover tube. Normally glasspacks give the exhaust a raspy sound but the crossover tube mellows the exhaust note.
A few full throttle passes down the side streets proved that I had stumbled on a potent combination of parts. This little 350 Camaro flat out flew. Though it was a genuine runner, it was a strippo model and lacked any options or accessories and needed interior work and a paint job. I lost interest in working on it further and sold it to a wide-eyed teen who just had to have it.


1982 Pontiac Trans Am
By now, 1982, I was married and my wife was working a full time job. Since we had extra money that needed spending, we talked about getting her a nice little commuter car like a Honda Civic. Even went out a test drove one of the little beggars. While we were talking about getting her a new car, she said, "You know, you seem to be enjoying this new car shopping more than me, we should be shopping for one for you instead." Next day we went to the Pontiac dealer and bought a new Trans Am. Nothing real fancy. No T-tops, no power gizmos, no air cond. Just a 305 4-bbl. automatic, white exterior with dark red & black cloth interior. It even had puny 14" rims with some cheesy Uniroyal tires. I got them to give me an inexpensive upgrade to the nicer 15" rims and Goodyear GT tires that they has as new "take offs". While the thought of a Trans Am with only a 305 engine (and a Chevy at that) didn't seem too impressive with other car guys, kids absolutely loved the car. One friend's 10 year old daughter called my car "White Rider" (remember the David Hasselhoff show "Knight Rider"?).
The T/A thrill lasted a little over two years till our first child was born and my wife quit work. (Note: My wife never did get a new car, but I did let her drive the T/A occasionally.)


1969 Oldsmobile Cutlass Convertible
In the Pacific Northwest, the near constant rains have always put a damper on sales of convertibles so there are few to be found. I snagged one for a short time, just long enough to get a taste for the wonderful feeling of driving topless. A 1969 Olds Cutlass showed me what it was like to enjoy driving in the great outdoors. I picked up this car from a friend who was working at a new car dealership and they had taken the Olds in on trade. It was pretty ratty looking and they were just going to wholesale it off. I bought it up for $375 and got it all fixed up with the intent of turning it around for a profit. A new paint job, a good set of used bumpers (both were bent) and plenty of scrubbing made it a real jewel. The motor was tired but it ran good and I enjoyed driving it for the few weeks after it was done but before I put it up for sale.
A young fellow, whose I.Q. matched his shoe size, bought it and within a month he had run it off the road into a ditch and totally wiped out the right side of the car. He and his buddy and been drinking (natch!) so they just walked away from the car. He had never transferred the title so when it was towed away I got the notice and the bill. Fortunately, the fellow took responsibility and paid the bill. The car went to the wrecking yard (sigh).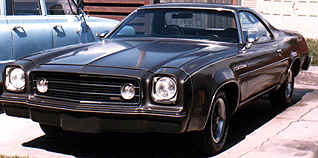 1973 Chevy El Camino - Laguna
It must have been time for another psuedo-truck 'cause I bought another El Camino, though not a new one. A common little used car lot offered up a 1973 El Camino that looked like some old man had just driven in. Silver/beige (GM painted LOTS of cars this color in the early 70's), black vinyl roof and black interior. Stock wheel covers and some skinny whitewall tires contributed to the "senior citizen owned" look. Power came from a stock 350 2-bbl. and a Turbo-350. The tires appeared brand new so I had the lot keep them as part of the "deal" we made. They got 'em back later that day as I drove to the tire store down the street to mount up some 235/60-15 white letter tires on a set of 15X7 Pontiac Ralley wheels I had laying around.
Even with the cool new rubber & rims, the exterior was still a bit "old fart" looking, so I prepped it for a makeover. I cut a hole in the roof for a pop-open sunroof and replaced the grill/nosepiece with one from a '73 Chevelle Laguna. The Laguna nose lacked a traditional bumper as it was made from a high density rubber that was painted body-color and acted as body and bumper both. GM had been using this setup on the GTO's since 1968. I then had it painted 1983 Buick Dark Sand Metallic (sort of an earthy charcoal). The transformation was dramatic and just what I wanted. The interior had the very comfortable swivel buckets, a tilt wheel and tinted glass. I added a set of gauges and a killer stereo and ended up with a cool looking, comfortable cruiser.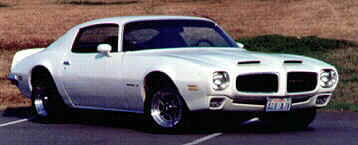 1972 Pontiac Firebird Formula 350
I had barely finished the Elkie when I spotted a shabby looking 1972 Firebird Formula 350 for sale. I've always liked the early 70's Formula 'Birds with their big nasty dual hood scoops. The back end had been punched lightly, like it had been backed into a pole, the red paint was faded, the black vinyl roof peeling, the black vinyl bucket seats torn and the u-joints ready to fall on the ground, but I just had to have it. It had some nice options like the deluxe interior, gauge package, power windows and door locks, tilt wheel, tinted glass and the Formula steering wheel (standard on the T/A but NOT the Formula). It also had the factory 8-track player mounted in the top of the console but since the days of "I wanna hold... CLUNK! CLUNK! ...your haaaand" were long gone, I replaced it with the standard cubby hole. The kid who owned it had spent a bunch of money on it having the 350 Pontiac engine and Turbo-350 tranny professionally rebuilt (he had the receipts) but he had gotten a job in Alaska and had to sell the car before he left.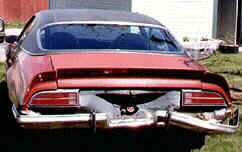 the 'bird "before"
I stripped off the vinyl roof, found a new rear bumper (no easy task) and prepped it for a paint job that I decided to do myself. I found that the original color was GM's famous silver/beige. I thought about doing it red again, but there were just too many red Firebirds around. I settled on white as it would set off the big hood scoops better than a dark color and it would be easier to paint, hiding imperfections. I also decided to use lacquer since no matter how badly I botched it I could still fix it. Laying down the final topcoats I could not achieve any real gloss, but finished it off figuring I'll just buff it out anyway. I turned out quite well and even though the car was rarely garaged, the lacquer job lasted over 10 years, still qualifying as a good 50/50 car (looks good at 50 ft. going 50 mph) when I sold it in 1996.
The 'Bird was perhaps my favorite car combining just about everything you could ask of a "driver's car". Power, handling, good looks, good sounds (both exhaust and stereo) and comfort. The only thing it did poorly was fuel economy. When I lived 8 miles from work, 10 mpg was no big deal, but when I moved 28 miles from work (one-way) it became a real issue. I thought about going through and fixing it all back up, perhaps adding fuel injection and an overdrive automatic to address the fuel economy, but I had kind of lost interest in the car and rarely drove it. I ended up selling it to a guy who was specifically looking for an older Formula, so he just had to have it. The next sunny day I began to miss it.

The rest of my vehicles through the years: (* = Still own)
1962 Pontiac Catalina 2-dr sedan 389 2-bbl. Roto-Hydramatic
1964 Pontiac Bonneville 2-dr hardtop 389 4-bbl Hydramatic 4-spd
1969 Pontiac Bonneville 4-dr hardtop 428 4-bbl TH-400
1964 Pontiac Bonneville 2-dr hardtop 389 4-bbl Hydramatic 4-spd (another one)
1974 Fiat 128 2-dr Sport Coupe 4 cyl 4-spd
1976 Chevy Monza 2-dr Hatchback 262 V-8 2-bbl 4-spd
1967 Dodge Coronet SE 4-dr Sedan 318 2-bbl Torqueflite
1967 Chevy Suburban 3-dr 400(small block) TH-400
1976 Chrysler Cordoba 2-dr 360 4-bbl Torqueflite
1977 Datsun B-210 2-dr Hatchback 4-cyl 5-spd
1973 Chevy Malibu 2-dr 350 2-bbl TH-350
1982 Ford Escort 4-dr S/W 4-cyl automatic
1980 Honda Accord 2-dr Hatchback 4-cyl 5-spd
1977 Pontiac Phoenix (Nova) 4-dr Sedan 305 2-bbl TH-350
* 1948 Ford F-2 3/4T pickup L-6 4-spd (my father's)
1983 Buick Park Avenue 4-dr Sedan 350(Olds) 4-bbl TH-200-4R
1983 Chevy Suburban Silverado 4-dr 6.2L Turbo-Diesel TH-700-R4
1988 Buick Century 4-dr S/W 3.8L F.I. TH-440-T4
* 2000 Chrysler Concorde 4-dr sedan. 2.7L V-6, auto.
My wife's cars through the years:
1964 Dodge 2-dr sedan 318 2-bbl pushbutton Torqueflite
1973 Ford Mustang Grande Notchback 351C 2-bbl C-6
1977 Toyota Celica 2-dr Hatchback 4-cyl 5-spd
1977 Chevy Monza 2-dr Hatchback 4-cyl 4-spd
1972 Buick Skylark 2-dr Hardtop 350(Buick) 2-bbl TH-350
1974 Chevy Malibu 4-dr S/W 350 2-bbl TH-350
* 1999 Ford Windstar SE Minivan 3.8L V-6 AXOD