My "NEW OAKS" Speakers
I had these oak veneer cabinets which contained good but mismatched drivers. Mismatched, not only to themselves but to the cabinet. I liked the cabinets, but wanted to put in better drivers.
Patiently watching for special deals at Parts Express web site netted me nice drivers at bargain prices.
Woofers are Definitive Technologies 5 1/4" cast frame drivers and the tweeters are Meiloon 1" silk dome shielded units. I used the specs published by Parts Express to design the crossover in Speaker Workshop. Over the course of many weeks, I tried different combinations and adaptations of components and finally came up with a crossover that looked good.
Putting it all together I crossed my fingers and lo and behold . . . they sound great!
Here's the final crossover design and the projected frequency response graph.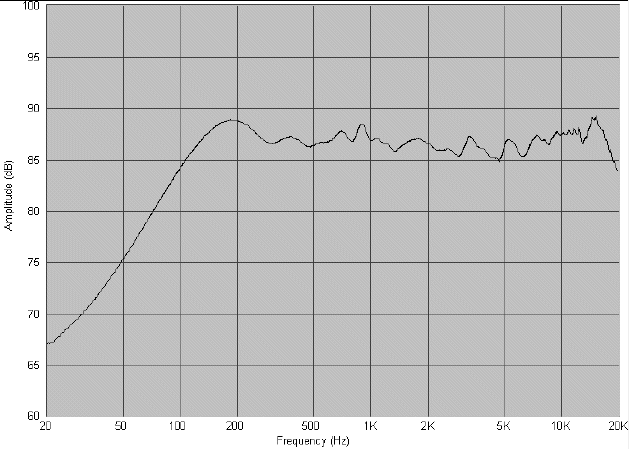 I use these speakers as the MAINS in my HT setup and they sound great for both straight music and surround sound.
Definitive Technologies 5 1/4" Cast Frame Woofer $6 ea. on sale
Specifications: * Power handling: 75 watts RMS/100 watts max. * Voice coil diameter: 1" * Nominal Impedance: 4 ohms * Frequency response: 50-3,500 Hz * Magnet weight: 15 oz. * Fs: 50.1 Hz * SPL: 87 dB 2.83V/1m * Vas: .37 Cu. Ft. * Qms: 2.86 * Qes: .45 * Qts: 0.39 * Xmax: 2mm * Sd: 14.1 sq.in.
Meiloon 1" Silk Dome Shielded Tweeter $5 ea. on sale
Specifications: *Power handling: 50 watts RMS/75 watts max *Voice coil diameter: 1" *Le: .4 mH *Nominal impedance: 4 ohms *Re: 3.0 ohms *Frequency response: 3,000-20,000 Hz *Fs: 1,700 Hz *SPL: 94dB 2.83V/1m.
NOTE: both of these drivers are sold out at Parts Express, but Apex Jr. carries the Dome Tweeter.