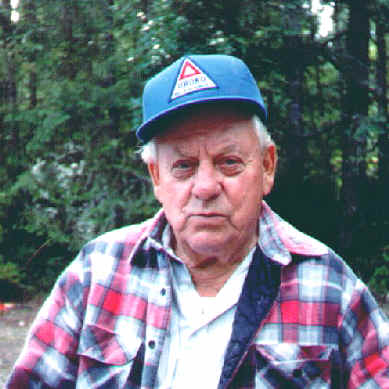 August Lucas Berry
Born July 5th 1910
Died October 16th 1999
God saw him getting tired,
a cure was not to be.
So He put his arms around him
and whispered, "Come with me."
We sadly watched him suffer
and saw him fade away.
Although we loved him dearly,
we could not make him stay.
A golden heart stopped beating,
hard working hands to rest.
Our prayers go up with you Gus,
you truly were "the best."

Eulogy for August Berry
August Berry was a man of exceptional values. Although born here in Tacoma, he was raised in the "Old Country", on an island on the Yugoslavian coast, in the Adriatic Sea, near the Italian border. His family had little money, but got by as best they could. That became much harder to do when the effects of WWI disrupted the simple ability to obtain food let alone other necessities. He never knew when or where his next meal would come from, if it came at all.
In his late teens, the Italian army began collecting young men to "volunteer" in the Army. August was forced to "volunteer" and they laughed at him when he tried to tell them that he was actually an American citizen. They trained him to be a machine gunner in the infantry but when his papers arrived proving that he really was an American, they literally threw him out of camp in the middle of the night. That was enough of the Old Country for him and he got together enough money to get himself to America. He arrived in New York in the middle of the Great Depression, but it was still a better place than the one he left behind. With a life lived thus far, he knew not only the value of the dollar but of the penny. He would always tell his children and grandchildren, "Save your pennies, there's a big depression coming." It's kind of scary, because his predictions were usually right.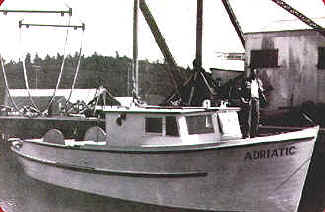 When he returned to the Northwest, he ended up working on fishing boats, first as a deckhand and later as a cook where he honed his renowned culinary skills. His dream, though, was to have his own fishing boat and in 1951 he launched the Adriatic, a magnificent boat, that like him, is a one of a kind. For almost 40 years he fished these waters, providing for his family and living a life that many would envy. Hard work was his focus in life and relaxing or taking a vacation were simply not even considered. You might say, his vocation was his vacation.
Since August knew from childhood what true hunger was, feeding his family was a real passion for him. Plenty of food – good, nutritional food – was always in ample supply at the house. And with his upbringing, part of the food at the table was wine. But store-bought wine was simply not good enough, so every year, the basement became the wine cellar. Those of you who have tasted his wine know it was as exceptionally good as August himself.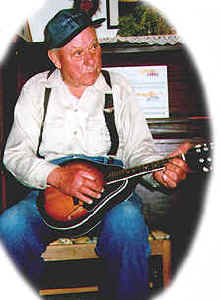 As a teen in the Old Country, he and a couple of friends would get together and sing and play the mandolin on the streets or in taverns to earn money. Because of this, he became quite good at both singing and playing the mandolin. Those of you who have been privileged enough to hear him sing, know he had a near-professional voice that needed no amplification or even accompaniment.
His family and those sitting in the pews around him in this church, for many years heard his voice. He enjoyed singing the old hymns on Sunday and praising God with the gift of song that God himself gave to August. He understood and believed God's plan of salvation through Jesus and because of that, we know he is in heaven with the Lord today.
So, August Berry was truly a man of exceptional values. He valued hard work, he valued honesty, he valued frugality, he valued family and God, he knew the value of good food, good wine and good song, and from the people we see here, he valued good friends.

The following are poems, writings and remembrances written about Gus since his passing on.
GRANDPA
Grandpa, you're in Heaven now,
so blessed we look above.
Jesus wrapped his arms around
the precious soul we love.
Grandpa, you can sing now,
what a beautiful voice we hear,
So bold and yet so simple,
like the man we all hold near.
Grandpa, you can sail now,
away into the blue.
Catch all the fish you want out there,
they've been waiting for you.
Go entertain the angels
with that clever little grin.
If anyone can make them laugh,
we all know that it's him.
Let us thank Heaven for our time together...
though we wanted to keep him forever...
So my Grandpa, he's not lost,
please simply know he's found.
He's just sharing his presence with someone new...
- Grandpa we'll miss you -
Love, Sonja
Your baby Granddaughter
(Sonja Berry, 10-16-99)

GRANDPA
I always thought I would have my Grandpa August forever. I thought he would always be there to lecture me with his wisdom and make sure I was staying fat enough. He was always so strong and youthful that I thought he would outlive each and every one of us.
His youthfulness and his strength soon faded and he slowly drifted from us all. He left behind a sense of comfort and ease of pain, for now he could walk again, sing again, and most importantly, lecture those around him in order to pass on all the wisdom he has gained throughout his long and beautiful life.
He was now gone, I thought. But then, as the whole family sat around the table eating dinner that night, I realized he hadn't gone anywhere. That was the first big meal we had all had together since Grandpa had been unable to sit at the table with us. It happened because of him. He was right there with us, scooping extra food onto my plate when I wasn't looking. He made sure we all ate more than we should and still have "ice creamy" afterward. I realized that night that I do have my Grandpa forever. I can see and feel his presence when I look into the eyes and hearts of each and every person that cares for him.
Daecia Berry

An excerpt of a letter from a fishing partner, Tony Simmons.
"I've been thinking about the times we had fishing in the Bay. Remember that big set we made (wasn't it around 20,000#), the debate we had whether to bring it all aboard. Gus won. And then getting to the tender, loaded to the gunnels, just before the wind kicked up, what an adventure!! Did that really happen? Doesn't matter. It did when I tell the story.
We ate like the gourmets we were meant to be on the 'Marion B.' No one could cook like Gus. When I got home, for months I tried to cook as he did. Loran said I'd say, 'Well, Gus does it this way, or Gus does that to the sockeye, or Gus grates the Parmesan this way.' I don't know if she knew whether I'd been gone fishing or to the 'Berry School of Fine Cooking.'
I'm thankful for the chance I had to know Gus and to fish on his boats. They are strong, solid boats that you could always count on to take care of you and bring you home. That was Gus. He was a real man and I am blessed to have known him".

Today acquaintances, friends and family will say goodbye to an immeasurable man,
One whose GOD given gifts allowed him to harvest the bounty of the ocean and the land.
A man whose beliefs in the home and the family,
Was a blessing that I was fortunate to see.
Some will say what is a man's measure,
I know what August has shown me, his family was his treasure.
And he confirmed that time and time again in his life,
In case you didn't know his boat was named 'Marion', after his wife.
Along the way GOD blessed him with two sons,
With these gifts his life had again begun.
There are so many things in our life to believe,
All of us want to but are afraid we will be deceived.
For August's family surely showed the way,
In what they did for all of us every day.
Some thoughts or acts they helped us with,
Is truly a measure of GOD's gift.
That is why I was blessed to have known this families man,
Because in life we are all a part of GOD's plan.
And though we are saddened by his passing,
It's our respect and love for him that will be everlasting.
I just wanted to say thank you August for all you have done for me,
Thank you for allowing me to be around your wife and sons for they are a part of my extended family.

Words inspired by and written for
The Berry Family
August, Marion, Nick, Steve

10/21/99
Jim